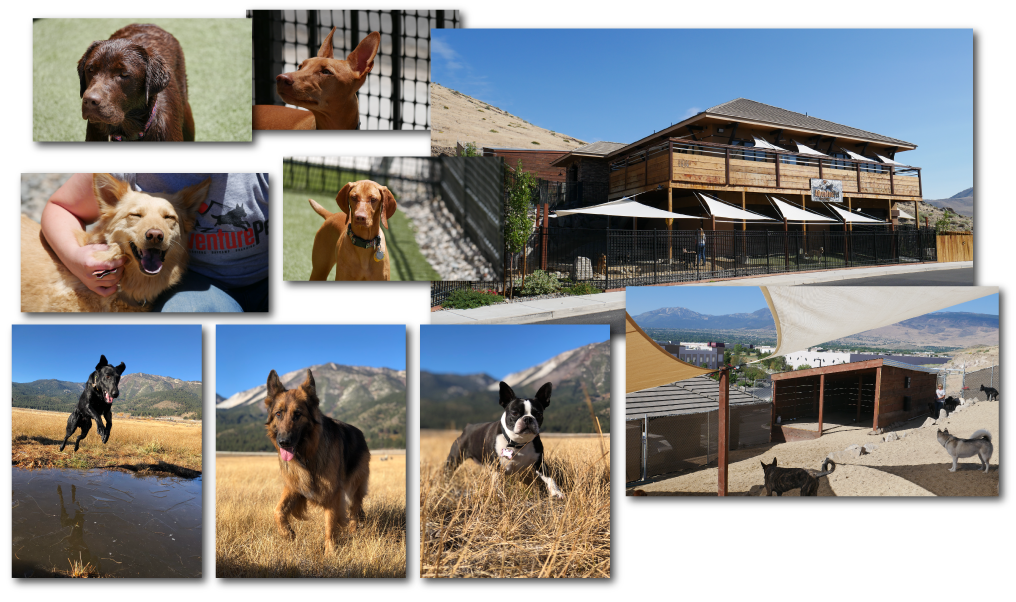 We live adventure pet.  Jackson has the best time when he goes here.  We began taking him to doggy daycare because he's a border collie, right?!  So in our past life we had our own small pack and they all kept each other entertained. Unfortunately, Jackson did not get to grow and love with these guys. So we did not want more dogs of our own. Next best thing, doggy daycare. Our friend, heard we were taking him one place and suggested we take him here.  So like any good doggie mom, I did my research, read reviews and had him go in for the evaluation. If you meet Jackson, you love Jackson.  So needless he passed with flying colors. What we love about Adventure Pet is that it's outdoors, it has sprinklers, and ponds for our crazy pup to keep cool in during the hot days.  The staff is great, they are always in the yards watching and interacting with the dogs. They have multiple staff members in each yard and it makes it better for me to leave him knowing that he's being watched by a group.  We also love the fact that they group dogs by activity level and that throughout the day they move them around.  I have dropped him off in the morning and he's gone to one yard and in the afternoon I pick him up and he's in another yard with other dogs. I like to that the staff know me and know who my dog is when I come to get him. It's not always the same person. We recently had an accident at doggy daycare and the staff were amazing.  The instantly took him out of the situation, cleaned him and kept him safe until we could get back to pick him up.  It was a minor cut, but they treated him as if it was their own dog. They even showed me the video, I am aware they do this for legal reasons, too. But I know that they wanted me to also, see that they were on it when it came to responding to incidents and handling accidents.  Let's face it they're kids with fur and they play hard, so its natural to have them. So thank you for taking good care of him. He's doing just fine, running around the yard and will be going back to play with his friends next week. When we need to board him we will use their facilities too. Which means he'll be in a familiar place and with familiar people, which will make it easier on him and us when it's not feasible to travel together.  So after this long diatribe, what am I trying to get you to realize this is one of the best places in town for doggy daycare. Ohh by the way dogs bark here and they wag their tails too.

Gosh I can't even explain how much I LOVE this place. They are so easy going and smart. I appreciate the care that they provide to our pups. We rely on adventure pet and they never disappoint. There have been times I've had to drop our dogs off with no notice and they gladly accept them with open arms. Our mastiff, Remi, loves these girls and guys more than anything. This place is definitely worth the money and puts my mind at ease when I have to leave my fur babies in their hands. I love that they get to play all day and are put with their "activity level group" rather than an age or size group. I'm so jealous of Troy and Stephanie, I wish I had their job! Seriously such a great company and I'm so thankful for them!

I never thought my dogs would follow a pack in the middle of nowhere, so I was hesitant to have them join in. But, after watching how well they did on their first run, I've been a convinced, loyal customer ever since. And when I see the pictures of my S'more walking through mud puddles, I'm amazed when he comes home cleaned up, happy and exhausted. Marnell, you're a saint! Thank you Troy and Stephanie for creating this unique business!

Well trained staff, large exercise areas, plenty of social and play time. Kennel and indoor social areas well maintained.

My dog LOVES Adveture Pet. It is actually hard to keep her in the car when we make the turn on to the street. I love that my lab puppy is worn down after playing all day with the other dogs. She sleeps so soundly afterwards. I am constantly recommending this place.

We love Adventure Pet! Our dogs love their excursion days and come home exhausted. We always feel they get superior care at base camp boarding while we're away. They're part of our family.

Laurie Rullman Murdoch

1/07/2019

My pups LOVE their excursions!

Paige Elizabeth

12/12/2018

Both the adventures and boarding are fantastic. My dog Lucy was leery to get in the van at first, but Michael was always so kind and patient with her. Now Lucy cannot wait for Michael to come pick her up for an adventure, she waits at the window for him and is always happy to see him! I had never boarded a dog before I tried Adventure Pet and can't imagine going anywhere else. The staff treat us like family and always welcome Lucy!

I can't enough good things about everyone at Adventure Pet. They care for my fur baby as I would. My dog loves going and comes home happy and exhausted from all the fun she had. They clearly put a lot of thought into creating such an amazing environment for the dogs they take such great care of. Thank you!

I love this place! This is definitely the Mercedes of doggie daycares. Khloé my 12 year old Loves to go here and she just started Adventure walks. Blake took such great care of her andSent me pictures of her on her first hike. This place is first class. All the employees are fantastic.My 6 month old golden doodle loves the pool and all all the doggie play.They are so exhausted after coming here. I LOVE THIS PLACE!!!

The only person Mowgli likes to wake up early for is when Marnell knocks on our door. Every-time he sees her he knows its adventure time. She also takes amazing pictures of Mowgli with all his friends!

I just discovered this place a couple weeks ago. I have been taking my one year old chocolate to daycare since she was little at another place that is just fine. I switched to adventure pet because it is closer to work and I am so glad I did. My pup is thoroughly played out when I pick her up after work.  She seems to really enjoy going and she is excited when we pull up in the morning for drop off.  It's super clean and they have water areas for the dogs to play in. Anyone with a water dog can appreciate this.  The staff is responsive and polite. I highly recommend this to people who aren't just looking for a daycare but for their dogs to actually play hard and get dirty.

I can't say enough about how wonderful this place is! The facility is clean and welcoming. Everyone on staff has been super friendly. You can tell they take pride in their work and are passionate about the dogs. My sweet pup takes a little bit of time to feel comfortable around new people and places. During the initial evaluation, they made sure to slowly get him acclimated with the staff, other dogs and facility. My dog is like the Energizer bunny, but was completely exhausted after his first day at day camp. The next time I took him, he started going crazy with excitement in the car when he saw the Basecamp. I'm so glad I found this place! Adventure Pet also has boarding, pet training, and outdoor excursion services. Check this place out if you are looking for a place that will love and take care of your dog while you are away. Your dog will thank you!

Everything! Nicest humans who love my doggos, treat them well, and take them on great adventures! A brilliant concept and a lifesaver for my very energetic pup!

Melissa Hilker Dahir

9/17/2018

My dog has been to several day care facilities in town. Today was his first day at Adventure Pet, and this is the first time he's come home and gone straight to bed after day care! 13.6 miles of running and fun in one day! Amazing job, Adventure Pet!If you have a high energy dog, give these folks a try.

Mika loves Adventure Pets. She comes exhausted but happy!

Always on point with customer service. My dogs are happy to go here and happy coming back home. Never any issue with scheduling, personnel, or management. This place has it all figured out👍🏼🐾

We dropped Reno off for the whole day to play with the other dogs and he sure is tired after we picked him up. This place is amazing and Reno will definitely be going back. Safe to say he had fun!

Rodney Kaleolani Yim

8/24/2018

Our first puppy training class was fabulous! Paige is wonderful, and does very well with both the pups and the owners. Great support staff, too!
Adventure Pet - BaseCamp updated their cover photo.
3 months ago